As consumers continue to drive a significant increase in e-commerce purchasing, many growing e-commerce businesses face the challenge of keeping their finances compliant while also remaining profitable and efficient.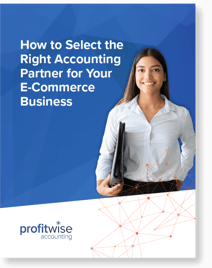 An experienced e-commerce accounting partner can help your business sell through Amazon, Shopify, and other leading e-commerce platforms, incorporate time-saving accounting processes, and provide timely advice on ways to grow your business.
But not all accounting partners are the right fit for every business.
How to Select the Right Accounting Partner for Your E-Commerce Business will help you find the right accounting partner by walking you through:
Trends in e-commerce and what they mean for your business
What to look for in your e-commerce partner
Questions to ask when selecting an e-commerce accountant
Start your search the right way by downloading the guide today!